ВІДПОВІДНО ДО РІШЕННЯ, ПРИЙНЯТОГО У ГРУДНІ 2019 р. РЕДАКЦІЙНОЮ КОЛЕГІЄЮ ЖУРНАЛУ «BIOTECHNOLOGIA, СОMPUTATIONAL BIOLOGY AND BIONANOTECHNOLOGY» ТА ФОНДОМ ПРОФ. WACLAW SZYBALSKI (РЕСПУБЛІКА ПОЛЬЩА), ГРУПУ НАУКОВЦІВ ВІДДІЛУ БІОХІМІЇ М'ЯЗІВ ІНСТИТУТУ БІОХІМІЇ ІМ. О.В.ПАЛЛАДІНА НАН УКРАЇНИ У БЕРЕЗНІ 2020 р. НАГОРОДЖЕНО ПРЕМІЄЮ ЗА КРАЩУ НАУКОВУ ПУБЛІКАЦІЮ У 2018 р.
ВІТАЄМО КОЛЕГ!
К.б.н. Ганна Данилович Академік НАН України проф. Сергій Костерін К.т.н. Олександр Чуніхін
та д.б.н. Ю.Данилович
Dear Dr. Danylovych!
I am very pleased to informed you that your reserach paper published in Biotechnologia, issue 1/2018, entitled "Methodology of Petri networks for simultaneous evaluation of the impact of different modifiers on the fluorescence of nucleotides from electron transport chain in isolated mitochondria and on the process of swelling" (BioTechnologia vol. 99(1), pp. 37–48, 2018) authored by Hanna Danylovych, Alexander Chunikhin, Yuriy Danylovych, Sergiy Kosterin has been awarded for the best publication of 2018 published in our quarterly.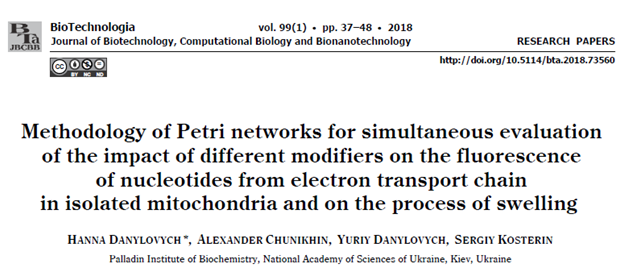 The Award is paid by Profesor Waclaw Szybalski Foundation.
Congratulation and best regards, Prof. dr hab. Ewa Lojkowska
President of Professor Waclaw Szybalski Foundation
Head of Department of Plant Protection and Biotechnology
Member of the Council of the University of Gdańsk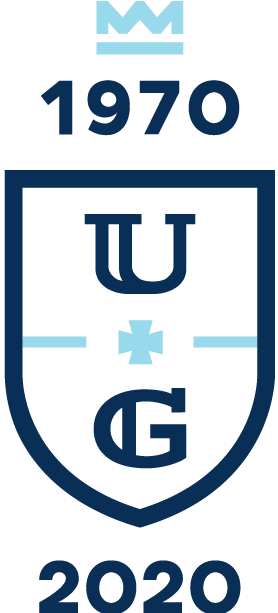 Intercollegiate Faculty of Biotechnology University of Gdańsk and Medical University of Gdańsk
58 Abrahama str., 80-307 Gdańsk